So You Want To Be Blonde: A Blog Series Part 3
How does getting the blonde hair of your dreams feel? Like this: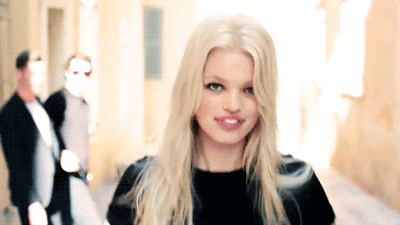 Yes, walking out of the salon with #HAIRGOALS met feels a bit like walking down a runway. Hair flips and car selfies are pretty much a guarantee.
Now that you have the IG hair you've been *swooning* over it's time to talk about how to take care of your blonde locks in the future with me, and how you take care of them at home. Prebooking future maintenance services with me, and making sure you have the proper hair care products at home are vital to the health of your hair and longevity of your color.
Let's start with PREBOOKING.
PREBOOKING
To  ensure that we keep your blonde bright and beautiful we need to set up a proper maintenance schedule. We do that by prebooking your future appointments before you leave. I try my best to keep maintenance minimal and cost efficient. However, just to warn you, some blonding services are just high maintenance, time+cost wise, PERIOD. I'll start with them.
Bleach
Bleach guests should prebook every 4-6 weeks for a touch up. With that being said, the more regrowth you have the more time and money your service will cost. Making sure you have no more than 1/2 in. of regrowth pretty much ensures a more even lift, requiring less product, time and cost. When people come back with over a 1/2 in. of regrowth it increases the possibility of bands, which can lead to more work for me, resulting in a higher cost for you. So just come back as close to 4-5 weeks as possible, mmkay?
$130-$150+, includes toner and Olaplex
Highlight
Highlight guests should prebook every 6-8 weeks depending on how comfortable they are with regrowth. I also recommend alternating between a full highlight and a partial highlight. A partial highlight consists of a mohawk section down your part, and sides.
Partial Highlight $86+, includes toner. Add Olaplex $20
Another fun alternative for a Highlight retouch is getting a Shadow Root + Gloss. This gives you the appearance of Balayage/Foilyage with no bleach, at minimal cost and time. It's actually sooo genius.
Want to see an example?                                           
For real. How good does this look?!
This was actually this guests first visit with me. Her original goal was a Balayage look. She felt that she looked more highlighted, and wanted an all over cooler tone. Because she already had the blonde the only thing I had to do was add depth and change the tone! Plus, I did it in less than an hour.
Shadow Root + Gloss, $86+, depending on length/thickness of hair. Add Olaplex $20
It's pretty amazing! It's also one of my favorite techniques. 
Balayage/Foilyage
While this technique generally takes the most time and cost initially, the maintenance is extremely easy and costs much less. Guests should prebook every 6-12 weeks depending on their grow out preferance. I usually suggest maintaining these looks a few different ways by prebooking one of these services:
Gloss, $66+

Shadow Root + Gloss, $86+

Face Frame + Gloss, $100+ *

Face Frame + Shadow Root + Gloss $120+ *
All services include a blow out. + curls $5, + Olaplex $20
*Face Framing is a few strategically placed foils around the face to add brightness.
Below is one guest's almost year long journey with foilyage, and it's subsequent maintenance.
Full Foilyage session, haircut, prebook 10 weeks out

Haircut, Shadow Root + Gloss, prebook 8 weeks out

Haircut, Shadow Root + Gloss, prebook 8 weeks out

Haircut + Style (no color because she was feeling her natural fade out), prebook 9 weeks out

Full Foilyage + Haircut, prebook 10 weeks out
These are seriously some of my favorite services. The grow out is beautiful and creates multiple looks depending on your preferences. Also, the maintenance is low key hella easy.
At Home Care
Now that we know what to expect, maintenance wise, in the salon it's time to talk about what you'll need to do at home to keep your hair as beautiful and healthy for as long as possible.
I'm sure you know what I'm going to say... so let's say it together...
USE. PROFESSIONAL. PRODUCT.
That's right, Pantene, Herbal Essence, Suave, they just aren't going to cut it. Plus, my work is only guaranteed if you're doing your part at home. That means, using quality shampoo, conditioner, and styling products.
Don't worry I carry an assortment of quality products in various price ranges, Olaplex, Design Me, Verb. Also, I decided to make purchasing products with me that much easier; See something I sell on Amazon at a cheaper cost? I'll match it. That's right, I price match freaking AMAZON. Money is important to me but so is your hair. This way I make sure you're purchasing legit products from a reputable source and you're getting the best deal possible. It's win/win.
Also, try not washing your hair for 24-48 hours after your color service. Use cool water when rinsing your hair and use a heat protector when drying. I recommend using Olaplex No.6 Bond Smoother Leave In Treatment, or Fab Me 18-in-1 Leave In Treatment. Both available for purchase at Candice Ashley Beauty.
Welp, looks like my first blog series has come to an end. Hopefully you enjoyed it, possibly learned something new,  or maybe, it's giving you the courage to go BLONDE. Whatever the case may be, I had a lot of fun working on it, but am always striving to be better. Let me know what you think by leaving a comment.
Have more questions? Leave those below too.
Have a beautiful  day!